I never seriously thought about writing a book, until after my mother's death. I was in my office, cleaning out my bookshelves (cleared out over 100 books!) and was surprised by how many authors I knew. I wondered why I hadn't considered writing a book. From that question I asked out loud that day, a journey started that ultimately led me to consider writing a book.
I thought I would write a book on women's leadership for women in leadership roles, based on my coaching work and experience. Instead, a book came forth about a woman that befriends a whale. While I think this is a good story (of course I am biased!) I struggled for a long time to make a connection from this fictional story to my "day job." Over time I have figured out that writing the book itself was part of my own leadership journey. My own process in birthing this book was all about trusting my intuition, overcoming obstacles and taking inspired action, just like my main character. Who knew?
An Unexpected Journey
One Woman's Whale Tale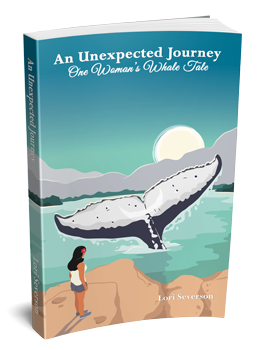 Springing from her passion for both books and animals, Lori Severson's first work of fiction, An Unexpected Journey, tells the story of an unlikely relationship between a girl and a humpback whale. If you love a good story and find yourself inspired by the experiences of everyday people doing extraordinary things, you will enjoy this book.
Impact of One Person
People today often lose sight of the difference one person can have in the world. We often get disenchanted and overwhelmed as we consider how one person can have impact when there are so many negative events happening in our world.
This fictional account aspires to touch hearts and inspire animal lovers. We all need a jolt of inspiration from time to time to rekindle our faith that yes, you CAN make a difference, one person, and one action at a time.
A Secret Love
The story begins with a young girl who unexpectedly meets a young whale and continues with the blossoming of their relationship in a period of high growth on a beautiful island. It is a sweet tender account of, connection, commitment, purpose and love between two very different beings. Lissa meets Henri when she is five and keeps their relationship secret for much of her life until circumstances no longer allow for her to keep quiet about her precious whale. She faces challenges and threats along the way as she tries to "save the whales".
Who is this Book For?
This book is appropriate for young adult to mature readers and animal lovers alike. It strives to inspire multi generations of women that are feeling uninspired or overwhelmed and need a positive jolt to be reminded that truly they are important and CAN make a difference.

Reviews
What people are saying about "An Unexpected Journey, One Woman's Whale Tale"
This is a tender, heart opening and very special book. It will bring you into a world of unique and loving relationships and is a reminder of the deep connection and bond between us all. This is a must read! It shines a light on the importance of the belief in something bigger than one's self, the deep value of Self trust and having the courage to take inspired action. I highly recommend it!
Lori's beautiful new novel encompasses rich character development and explores the kind of wonderful content that tugs on your heartstrings – love, loss and personal growth. You will fall in love with the characters, along with the sun kissed settings. Be prepared to get lost in this beautiful story and be reminded of some of life's biggest lessons.
An Unexpected Journey is an extraordinary story of one woman's journey following her chosen path. I found myself feeling emotions of hurt and sadness as well as joy as I sunk deep into the story only to emerge with a sense of aliveness for my own life's purpose. The author brought the characters to life in my heart and I truly felt a connection to the whales and their life's intricacies. Truly enjoyable and heart-felt read.
The journey I took while reading "An Unexpected Journey: One Woman's Whale Tale" was one I enjoyed and gladly recommend. The story is beautifully descriptive and full of love, friendship, determination, and a deep connection that I felt intensely. The story also shares the struggle to remain connected to culture and heritage while at the same time celebrating the connections that remain and the gifts passed down through generations. This book took me on a ride exploring the natural world and our coming together through compassion, light and joy